Cleon is available to speak at your organization on a variety of topics relating to jobs and employment. Please send an e-mail to Cleon for more information.
Pictures



Where Cleon has been heard:

Mon.Apr. 16, 2007-4:00pm-6:00pm WholeFoods
"Have You Ever Been Slow Roasted, Now What?''
You could feel it coming, yet you didn't do anything. Finally it happens and here you are out of work, now what?


Mon. Mar.19 , 2007-4:00pm-6:00pm WholeFoods
''How to Cook Up a New Job''
Sometimes we get tired of the same old routine or someone else removes you from it. Let's look at ways to make a change and do what you like.

"Have you been Reticulating?"
Wed. Feb. 21, 2007-1:00pm-3:00pm
Capital Career Center (185th and NW Walker Road in Beaverton).
R oom 1533, accessed through Entrance 'C' at the Capital Career C

Mon. Feb.12 , 2007-4:00pm-6:00pm WholeFoods
"What if I don't Know What I Want to Do?"

License to Speak With Confidence
Wed. Feb. 7, 2007-6:40am-8:00am
Cedar Hills Recreation Center, Rm 3
11640 SW Park Way & SW Cedar Hills Beaverton

Mon. Jan. 8, 2007-4:00pm-6:00pm WholeFoods
"What do I want to do when I grow up?"
A common dilemna and what to do about it.

Mon. Dec. 11, 2006-4:00pm-6:00pm WholeFoods
''Don't turn the temperature too high, you'll burn the interview.''
Nothing worse than a burned interview. You feel bad, you didn't get what you wanted and it just might smell.

Mon. Nov. 13, 2006-4:00pm-6:00pm WholeFoods
''Have you ever tried a recipe and it didn't work? The same can happen in the job hunt.''
Happens all the time so let's try another one. Sometimes our ingredients aren't quite the same as others so we have to modify them.

Wed. Oct. 25, 2006-Noon-1:00pm
"Would You Rather Get Bitten By A Snake On An Airplane Than NETWORK?"
Take the Lead- Bridgeport Brew Pub and Bakery, 1313 NW Marshall.

Mon. Oct. 16, 2006-4:00pm-6:00pm- WholeFoods
''If I give you the recipe, to find your next job, will you follow it?''
Let's be truthful, you already know what and how to go about this task. Reality is Sometimes it isn't working. So let's work on a plan that you help create.

Mon. Sept.25, 2006-4:00pm-6:00pm- WholeFoods
''Don't Put Onions in that Interview''
Just like onions give off a pungent odor so do too many filler words i.e. ah's, um's, but, so, like etc. Many times even the interviewer doesn't know what is
offensive to their ears.

Mon. Aug. 14, 2006-4:00pm-6:00pm- WholeFoods
'At What Temperature Do You Cook Informational Interviewing?''
Tricky one here, so much depends on the interviewer. This is where your listening skills play such a paramount part. You don't want to burn it nor under cook it.

"Networking Made Easy"
Tue. Jul. 18, 2006-2:00pm-3:00pm
Capitol Career Center-Beaverton

Mon. July 17, 2006-4:00pm-6:00pm Whole Foods
''Have You Cooked Up Some Networking Lately?''
There are so many recipes for networking there is no excuse for not finding a fun
way to include it in your daily routines. Working or not.


''Let's Have an Opportunity For Dessert''
All work and no play isn't usually fun. Let's talk about taking a break that can also be useful and fun.
Mon. June 19, 2006-4:00pm-6:00pm
Whole Foods

''How to Add Some Spice to That Job Search''
It can be awfully bland out there searching for your next opportunity. Why not spice up the hunt so it is more fun and less depressing.
Mon. May 29, 2006-4:00pm-6:00pm
Whole Foods


"Have You Ever Been Slow Roasted, Now What?''
You could feel it coming, yet you didn't do anything. Finally it happens and here you are out of work, now what?
Mon. Apr. 10, 2006-4:00pm-6:00pm
Whole Foods

"What do I want to do when I grow up?"
Mon. Feb. 20, 2006-4:00pm-6:00pm
WholeFoods

Whole Foods
"What if I don't Know What I Want to Do?" A common dilemna and what to do about it.
Mon. Jan.16, 2006-4:00pm-6:00pm

"Will Santa Bring me a Job for Christmas?" Come discuss what happens if he doesn't. By Cleon Cox @ WholeFoods
Mon. Dec. 12, 2005-4:00pm-6:00pm

"What is Networking? Then how do I use it?"
Mon. Nov. 14, 2005-4:00pm-6:00pm
Whole Foods

Whole Foods (note change in date)
"Jobs, Opportunities, How to make yourself standout."
Mon. Oct 10, 2005-4:00pm-6:00pm

"How to master networking so it works for you"
Tue. Aug. 16, 2005-2:00pm-3:00pm
Capital Career Center- At the corner of 185th and Walker Road, Entrance C- 18624 NW Walker Rd, Beaverton

Whole Foods
"The BBQ is on, so where are those jobs?"
Mon. Aug.22, 2005-4:00pm-6:00pm

" A Hunting We Will Go"
Sat. May 21, 2005
District Seven Toastmasters Conference
Seven Feathers Casino, Canyonville

"The Job Hunt"-#4- What will make me successful in landing the right opportunity? The secrets to landing that opportunity. Register
Whole Foods -1210 NW Couch Street, Portland OR
Mon. May. 16, 2005 4:00pm-6:00pm


"The Job Hunt"-#3-Where do I look?-Should I look in places like the Sunday paper? Or where else? Register
Whole Foods -1210 NW Couch Street, Portland OR
Mon. May. 9, 2005 4:00pm-6:00pm

"The Job Hunt"-#2-Decisions-What do I want to do when I grow up?
Whole Foods -1210 NW Couch Street, Portland OR
Mon. May. 2, 2005 4:00pm-6:00pm


"The Job Hunt"-#1-What now? You have been let go so what do you do now? Register
Mon. Apr. 25, 2005 4:00pm-6:00pm
Whole Foods -1210 NW Couch Street, Portland OR

Speaking of Speaking (TVTV Cable)
"Confidence"
Channel 21:
Thu 04/07/05 11:00:00 P Speaking of Speaking #4
Sun 04/10/05 1:30:00 P Speaking of Speaking #4
Wed 04/13/05 9:30:00 A Speaking of Speaking #4
Channel 23:
Sun 04/03/05 8:30:00 A Speaking of Speaking #4
Tue 04/05/05 7:30:00 P Speaking of Speaking #4
Fri 04/15/05 4:30:00 P Speaking of Speaking #4
Sun 04/17/05 10:30:00 P Speaking of Speaking #4

Youth Leadership Skills Conference & Job Fair
Apr. 2, 2005-9:00am-2:30pm
Learning for Life Real World Leadership Conference & Job Fair
Tiger Woods Conference Center Nike World Headquarters

"More self confidence is a good thing;
When searching for that next opportunity"
Whole Foods -1210 NW Couch Street, Portland OR
Wed. Mar.23, 2005 4:00pm-6:00pm

"There is More to Driving than Driving"
Tetropolitan Kiwanis -Hi Hat Rest. Tigard
Mon. Jan.31, 2005 11:30am-1:00pm










More venues

You or someone you know may need this book
"The 50 Most Asked Questions from the Newly Unemployed"
In "The 50 most Asked Questions From The Newly Unemployed," Cox suggests answers to questions like "where do I go from here, what salary can I expect, where do I find the hidden jobs and MORE!

Sample chapters:
Where do I go from here?
What if I don't know what I want to do?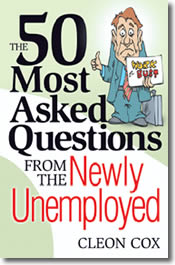 This book answers your questions and gets you started on the road to finding your next opportunity.
This book will get you out of the house and on with your next quest.

What is worse than unemployment? Being employed where you are unhappy.

What others say
"A must read for everyone in, or about to enter, the workforce.We will all need these handy tips at some point in our professional lives.Why not take advantage now of the wisdom offered in this small but mighty volume?"
--Gary Schmidt, Congressional Aide

"Reading "50" is like being with an old friend. It is comfortable,reassuring, and yet thought provoking and complete. It has relevance forall stages of the job search. And it serves as a springboard for further study. "50" can make all the difference."
---Nolan Olhausen, Former Stockbroker

"This is a book that I would give to those who have just got laid off. When answering the question, why has this happened to me? Cox advises the reader not to take it personal, emotionally deal with it, move on. Good advice."
Rich Kolikof
Managing Director
The Winthrop Research Group

"Thanks so much for your time and insight this morning. I believe the folks at the meeting enjoyed and benefitted from your presentation and Q&A. Many of these folks are in this position for the first time, having always been top
performers in more robust markets. Your insight was very valuable. We listen to all we can and try everything that makes sense - and what you had to say made sense. I will be checking out your web site and hopefully coming to one
of your networking sessions."
Gordon A. Simpson
The Breakfast Club
Portland Locations to buy book
Portland Airport- Powells
Broadway Books-Portland
Wallace Books
Annie Bloom's Multnomah Village
Main Sreet Stationers
12245 SW Main Tigard


Also Available
Amazon Books