Founder- The Job Finders Support Group
A tribute to the founder-Ed Burpee
Oct.1, 1911-Mar.29, 2004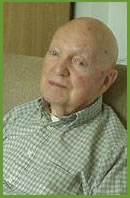 The group was first brought together in November 1991 by Ed Burpee (shown at right). He was 81 when he started the group.The purpose was to utilize all the collective minds that attend the meeting each week to assist one another on how to be productive in finding your next opportunity. To help you end your work week on an upbeat note, putting you in a more positive mood for your next encounter.
At the same time Cleon Cox happened to attend in November 1991, at the insistence of his wife (Gloria). He continued his attendance and fast befriended Ed and assisted with meetings. Eventually Ed was not able to attend due to macular degeneration and advanced maturation. Cleon was able to continue and enjoyed giving back as his business allowed him the time.

Remember that it is important you be in control of your destiny.
Some Burpeeisms:
"A people trail is better than a paper trail"
"Don't look for jobs, look for opportunities"
"Working where you are unhappy is worse than unemployment"
"You always want to be in control of your destiny"

"Affirmations will move you forward positively"